Client Spotlight
Rising Tide Acupuncture

Greg McCue didn't have any experience with acupuncture until he was 19 years old.  After sustaining a football injury to his arm, one of McCue's martial arts colleagues convinced him to use acupuncture to supplement the healing process. A week after receiving two treatments, he was practicing football (and martial arts) again. It was then that McCue realized that East Asian medicine, and acupuncture in particular, is unlike any other medicine.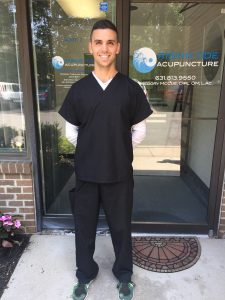 Attending Adelphi University, McCue changed his course of study from Economics and Chinese language to East Asian medicine. He jumped in with both feet and didn't look back. After leaving Adelphi he chose a specialized career in acupuncture. He enrolled in Pacific College of Oriental Medicine in NYC, shadowed acupuncture specialists, and studied in China. McCue believes acupuncture is "more than a job. It is a calling."  His studies lead him to both a NYS licensure as well as national accreditation.  He is able work in any state but opened his first location, Rising Tide Acupuncture, in Huntington Station.
It All Fell Into Place
Combining his drive, knowledge and experience, McCue's reputation and practice expanded quickly. He knew he was an expert in his field. But he also knew that he needed help navigating the business side of his practice.  McCue met Joe Maddalone through the Huntington Township Chamber of Commerce, where he was hoping to bring more visibility to acupuncture and educate the community. Joe was impressed with McCue's motivation and after multiple meetings, McCue realized that an accountability partner and business adviser was just what he needed to propel his business forward. Joe worked with McCue to set realistic and specific goals in order to grow the practice in a manageable way. These goals were discussed and developed in a way that McCue could understand, and Joe was there to keep him on track. Four months into working with Joe, the practice saw a 165% increase in patients per week. His treatment schedules are getting more refined and more efficient. This controlled growth allowed McCue to achieve his dream of moving the practice to a larger office in Huntington Village.
Progressing Into The Future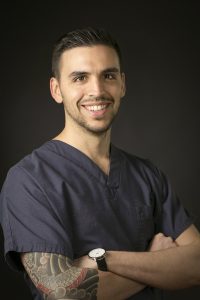 Joe's influence on Rising Tide Acupuncture will remain as he continues to consult with McCue on the future of the practice. McCue knows that Joe "hooks me up with the right people to affect my business in a positive way. His experience is helpful in being able to assess business opportunities that I don't yet have the experience to evaluate completely. Because of my confidence in the team that Joe helped establish, I can spend more time focusing on my patients. I sincerely think 24/7 about every case and patient to make sure the treatment plan is efficient and effective. "
About Rising Tide Acupuncture: We have spent years perfecting and combining the art of East Asian Medicine with the science of Modern Medicine to deliver a hybrid approach to health, wellness, and longevity. This fusion alongside our passion has given us a reputation of skill, service, and dedication to our patients. Greg has developed a "protocol" for every major joint issue in the body, delivering potent and lasting results for a wide variety of ailments. Our unique 5 step approach makes treating Orthopedic and Sports Medicine cases an artful science. The combination of this protocol and an exceptional network of the best rehabilitative therapists have our patients raving.
Through skill and service, Rising Tide Acupuncture is recognized as the place to go to for acute and long term care. In the Spring of 2017, Greg was a 30 Under 30 Young Professional Award Winner for excellence in his field of practice. As a passionate educator and promoter of health, Greg was nominated as the co-chairman of the Huntington Chamber of Commerce Health and Wellness Committee in 2017. You can contact Rising Tide Acupuncture at info@risingtideacupuncturecenter.com or (631) 416-4940.