Stop Sabotaging Your Business Growth!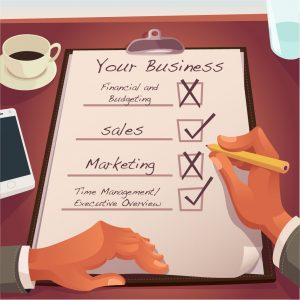 To prepare your business for consistent and manageable growth, you must first take some time to create a complete snapshot of your business. Developing an honest and useful assessment of your company requires a set of tools some entrepreneurs haven't yet perfected. Let's review some of these tools to help navigate this process:
Financial and Budgeting Tools
Analyzing reports you frequently review makes this tool easier as a starting point. Profit and loss statements, expenses and revenue reports require line by line reviews to create an analysis of return on investments, efficiencies and over-spending in your company. You probably go through this monthly to make sure your revenue is moving in the right direction. But these reports must be analyzed deeply to look for trends, outliers and blips that may help forecasting growth and decline. Your accountant is a good partner when using financial and budgeting tools to create your company assessment. Only include company team members who are involved in financial approval.
Sales Tools
Analyze your existing sales process. Do you know how many interactions it takes, on average, to close a sale?  What is your sales cycle? What are your follow-up / conversion processes? What is your quoting process? Are your processes regularly evaluated for maximum efficiency/ automation? How many new clients are you adding monthly/ annually? A deep dive into your sales process should be able to answer these questions, and more.
Marketing Tools
Analyze ALL campaigns and outreach including trade shows and conferences (which are mostly overlooked as "necessary expenses for brand recognition"). Make sure you have a strategy in place that is strong, reportable and flexible. How often are you promoting your  company? Are you known as a resource to your clients? Are your sales and marketing strategies tied together (answer should be yes- communication between sales and marketing is essential)? Have you identified your strongest markets/ demographics and those with the greatest potential (they may be different)? Are you addressing (messaging) your markets differently depending on their wants, needs? Software and analytics can help with measure the efficacy of marketing campaigns and company outreach.
Time Management/ Executive Overview Tool
This is a self-assessment. The primary goal should be to grow your company to a point where you empower others to take on day to day tasks while you evaluate future opportunities. While this may not be feasible for sole-proprietors, a self-assessment is still a mandatory tool to allow you to understand what YOU are doing or not doing that is holding your company back from manageable growth. Your business coach is a great partner here to keep you as objective and accountable as possible.
The more you use these tools, the more adept you become at creating an honest assessment of your company. This assessment is the foundation for successful growth and should be reviewed annually with your team. A snapshot creates a strong foundation and accurate oversight that will result in success…
What does success look like to you?
Our next entrepreneur's breakfast series will explore practical implementation of these tools, development of a strategy using the results of your assessment, and real case studies from businesses that have found success with these tools! If you are interested in attending the 3-part series, please email us at jrm@jmpowerstrategies.com
Comments
Add a comment